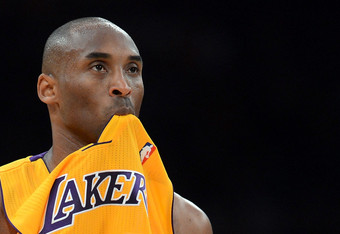 I'm back after a rough weekend for the Lakers. It started out with Friday's game, which was a nail bitter, from start to finish. The Lakers squeezed out a victory by being aggressive, attacking the basket, and having an insane amount of free throw attempts. They were down by five with under three minutes to go, and they won by three. It was a hard fought victory and it was officially a series. If they went down 3-0, it would have been all over but the crying.
Game four, however, was similar to game two in the fact that it was a painful, brutal, and horrible loss. They were up by 14 at one point before Russell Westbrook took over and was a one man show. As has been the problem for most of the year for the Lakers, they couldn't cover an elite point guard and suffered because of it. The game was tied until Gasol passed up the chance to shoot an open shot and passed the ball which resulted in a terrible turnover. Kevin Durant waited until the shot clock ran down and nailed a cold-blooded three pointer over Metta World Peace. Bryant missed a game tying three, and the game was over. It was another deflating, painful, and tough to swallow loss for Laker fans.
Now, it's Monday night, and game five is tonight, along with the Lakers season being on the line. If they lose, they pack their bags and go home for good. If they win, they pack their bags back to L.A. for game six. Either way, they are going home. We just aren't sure if they will go home to play another game or if they will go home for the last time this year.
It's obvious that the Lakers can compete with the Thunder. They got their doors blown off in game 1, but games 2, 3, and 4 were very competitive, and it easily could have been 3-1 Lakers, if they were able to finish games off. That's been the problem all year for the Lakers. They can't finish games. They have the talent, and they are prepared, but they seem to lose all sense of control in the last two to four minutes of the game. This is something that we experienced as Laker fans in the first game of the year against Chicago. It's been the sad and annoying theme all year long.
Everybody and their mother have picked against the Lakers and have said that the series is over, and OKC will play the Spurs. Magic Johnson has blamed it on Mike Brown. He said during halftime of the Heat Vs Pacers game that he is a good coach, but he's not a great in game coach that can make adjustments. It's hard to argue with him right now, considering the results of games two and four.
Down 3-1 is a tough task, but it's not impossible. Eight teams have done it before, most recently the Suns against the Lakers in 2006. It will not be easy and the odds clearly favor OKC, especially at home. That crowd is going to be loud, proud, and insane, as they want their Thunder to wrap up the series and go to the Western Conference Finals. OKC does not want to go back to Staples Center. If that happens, the series will go to seven games.
Until the end, I'm a fan, no matter what. I wouldn't bet money on the Lakers, but my heart, my pride, and my Laker fandom predict the Lakers tonight. Logic, money, and wisdom say OKC wins and wins big. The Lakers do not have a great history in close out games at their expense, look at the finals against Boston in 2008 and the Mavericks series last year. I know it's not easy to look at, but history is not on their side.
What will win tonight? Heart or logic?