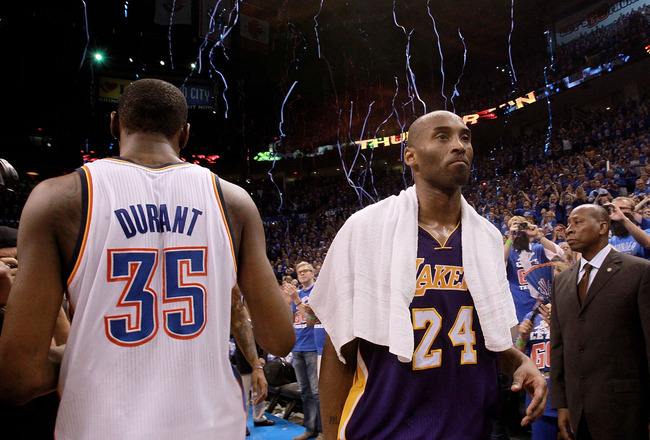 The Lakers season has officially come to an end with a thud after losing to the Thunder in five games in the Western Conference Semi-Finals. It's the second year they have been eliminated in the second round of the playoffs. They kept it close for three quarters before OKC blew the game wide open with a thunderous fourth quarter and pulled away from the Lakers. It was sad to see the series come to an end, as that means no more Laker games until October 2012.
Just one week ago, they were starting their series with the Thunder, and a week later, it was over, five games in seven days. When the series was over, I kept thinking about Games 2 and 4 when they were so close and could have put the Thunder away, and if they did, it would have been a different series all together. I know it's not always wise to look in the past, but this was a series of what ifs. If only this happened, they would have won. If this had occurred, they could have finished that game off.
In the end, though, you have to put the excuses aside and give all the credit to the Thunder for having the mental toughness and energy to finish games off. It's not how you start, it's how you finish, as the old cliché goes. The Lakers started out fast in games 2 and 4, but they couldn't finish. That was the difference in the series. They only have themselves to blame for game one, because if they would have finished off the Nuggets in five games, like they should have, they wouldn't have been so gassed in game one and put themselves in such a hole.
As I mentioned on Facebook, this has been one of the most exciting Laker season I've followed, even without winning the title. Nothing compares to the 2010 season, however, with the Lakers winning the title in seven games over the Celtics. I'll never, ever forget that run and that championship. That was by far the sweetest and most enjoyable out of any title run I've experienced as a fan, even more than the Packers winning the Super Bowl.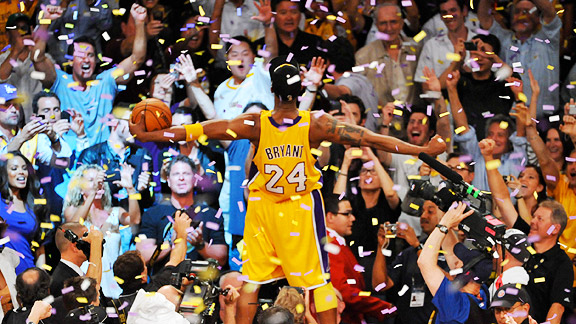 This season, however, is the most involved I've been as a fan, thanks to the NBA app from Sprint. I've been able to listen to every game called by John Ireland and Mychal Thompson, and then I listen to the breakdown of the games by Mason and Ireland the next day. I even had the pleasure of interviewing Mason and Ireland for 411mania.com.
My girlfriend Amanda and I either listened to the games on the radio or watched them if they were broadcast on national TV. There was a game almost every other day, and it was very, very exciting having basketball, all the time. It helped sorrow the pain of the Packers losing to the Giants in the second round. Amanda also grew as a fan and learned so much about the team, the game, and how it works. She would get so into the games, and that made me so excited to be able to share the experience of being a Laker fan with her. That's really what it's all about, sharing a moment and a memory with someone that you care about. That makes it all worthwhile.
My favorite part of this season had to be the games that aired Sunday's on ABC. They won big games against The Thunder, the Miami Heat, the Boston Celtics, and the Dallas Mavericks. Those were my favorite games of the year along with their big win over Boston by one point on a Thursday night game on TNT. The season was filled with drama, from Mike Brown benching Kobe and Bynum to Bynum shooting a three to Metta's elbow. The season was far from boring, that's for sure. As far as the changes they need to make, they are quite clear. They need to figure out if Ramona Sessons is the point guard of the future, what to do with Gasol and Bynum, and they need a better bench, more scorers.
After back to back early playoff exits, it's clear that something is going to have to happen and happen soon. Knowing the Lakers and their storied history, they are not going to stand still and do nothing. They tried to get Chris Paul, but we all know what happened with that deal. You can't cry over spilled milk, however. You have to regroup, grow, and become a better team next year.
Next year, it won't be a shortened season and Mike Brown will have a full training camp to get everyone ready, in shape, and focused on his plan for the team. Hopefully, there will not be any crazy trades that get vetoed and throw the whole team into chaos and awkwardness. I still believe in Mike Brown, and I think he did a solid job, considering everything he had to deal with as a first year coach. All in all, the Lakers finished about where they were supposed to finish. They had the third best record in the West, which is about right, since they are not better than the Spurs or the Thunder. They lost to the Thunder, the second seed. Nothing really happened that was a shocker or totally surprising as far as how the season unfolded considering the circumstances.
Thanks for a fun, exciting season, Lakers. It was a disappointing end to the season, but there's nothing to be sad about, that's for sure. Losing always leaves a bitter taste in your mouth, as a fan, and it's never easy to swallow or deal with. You always have hope, faith and belief in your team. I know I did, even down to the last minutes of game five. With six teams left in the playoffs, I am going to root for the Pacers to win it all. I'd like to see a team that no one expects to win end up as the championships.
GO LAKERS! Purple and Gold.
-Tony Farinella